Brass Check Valve Manufacturer in China
We are professional brass check valve producers and exporters in China, the check valves are also named nonreturn brass valves, a kind of one-way valve used to prevent back flow in the pipe systems. We have brass spring check valves, brass spring check valves with stainless steel filters, brass swing check valves, brass check valves for water meters and brass foot valves to meet your different applications.
Guideline to importing brass check valves from China
Please view following guideline in details, which contain product information brass brass check valves, the production progress, quality control, how to select brass check valves, kinds of brass material for brass check valves and how we can help to reduce your importing costs and improve your sales and marketing.
1. What is brass check valve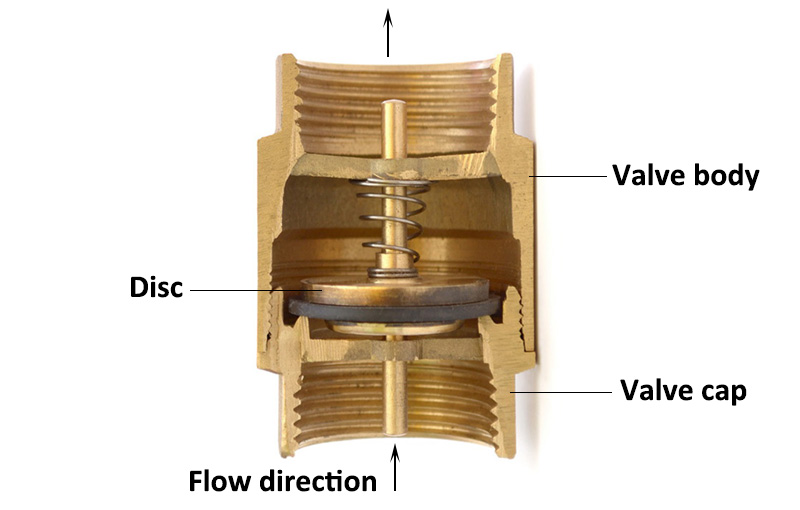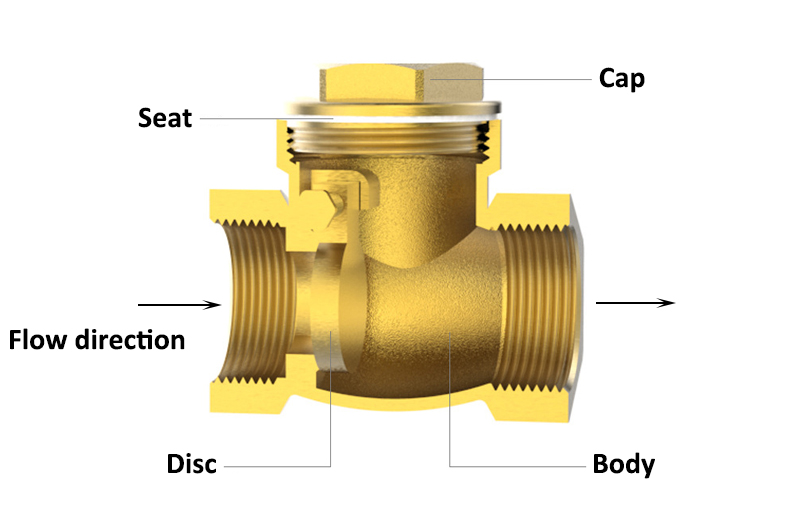 Brass check valve is an automatic valve whose opening and closing parts are circular discs and rely on its own weight and medium pressure to generate actions to block the back flow of the medium, also known as check valve, one-way valve, non return valve or isolation valve. The medium flows in from the inlet end (lower side) and flows out from the outlet end (upper side). When the inlet pressure is greater than the sum of the weight of the disc and its flow resistance, the check valve is opened. On the contrary, the valve is closed when the medium flows back.
2. Types of brass check valves
There are two types of brass check valves:
1. brass spring check valve, also called vertical check valve, with a spring disc inside to prevent back flow;
2. brass swing check valve, also called horizon check valve, with brass brass plate disc inside, the flow can only go through in one direction.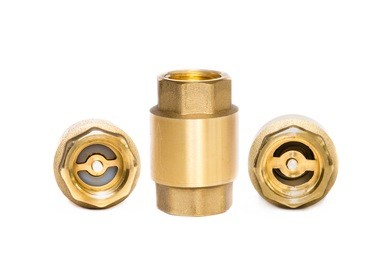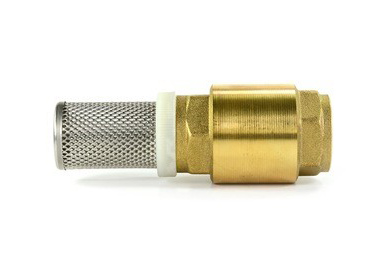 3. Consideration of importing brass check valves
The brass check valve has a very important application role and function, and has a very stable use effect in an industrial environment. If you want to ensure that its advantages and characteristics can be used to avoid potential safety hazards in the application, it is recommended that you avoid the following misunderstandings when buying, otherwise it will directly affect the safety of the working environment.
1. Importing brass check valves needs to consider the actual situation of the manufacturer and the brand's reputation, but don't blindly believe in advertising, but compare and judge according to your actual needs to understand which brand manufacturer's use effect Better, rather than just believing in publicity and promotion.
2. When importing brass check valves, do not blindly greet the cheap, let alone think that the expensive one is the best. This is a misunderstanding of buying a brass check valve. Instead, choose the appropriate specification based on actual needs. Model, and at the same time, ensure that its price positioning meets industry standards, so that the purchase price-performance ratio can be better reflected.
In order to ensure that the brass check valve exerts the advantages of stable and high-quality use, especially to avoid various hidden safety hazards, it is recommended to purchase brass check valves to understand the above specific problems and avoid these purchase errors in order to ensure the use of functional advantages. , In the actual application process can play a better safety and quality standards.
4. How to select brass check valves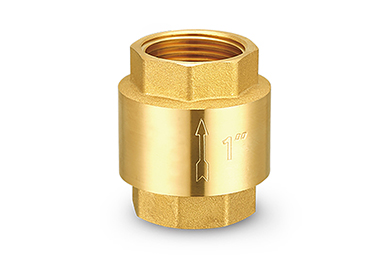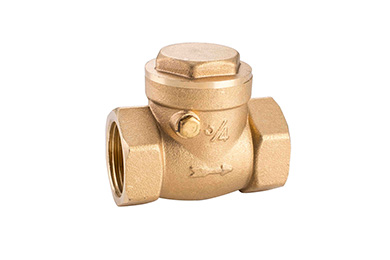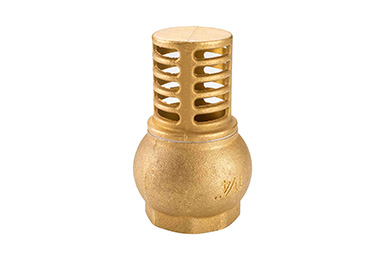 1. Confirm the functions of brass check valves
different functions and applications require different types of check valves, for example, brass swing check valve, brass spring check valve, brass foot valve.
2. Confirm the working pressure of brass check valves
depending on pipeline pressure needs, the brass check valves are designed with valve wall thickness and port sizes, such as PN16 brass check valve, PN20 brass check valve, PN40 brass check valve.

3. Confirm bore size of brass check valves
There are three different types of brass check valve:
1). Full bore brass check valve offers no flow restriction, which means that when it is open, the liquid can flow freely through it. This is achieved by making the ball larger than the passage size, so that the hole can be the same size as the passage.
2). Standard bore brass check valve does not have an oversized ball, and as a result, the hole is one size smaller than the passageway. This creates a small amount of flow restriction as the fluid passes through.
3). Reduced bore brass check valve, on the other hand, has an smaller ball and an even smaller hole, which creates significant flow restriction as the fluid passes through it.
4. Confirm thread type of brass check valves
Thread types differ from markets and applications: BSP threads for Europe and NPT threads for North America, also other metric threads, which you must confirm before buying brass check valves.

5. Confirm material type of brass check valves
We currently work with HPb57-3 brass radiator valves for most customers in Europe and Asia, CW617N brass check valves for Europe, C377700 and lead free brass for North America.
7. Confirm surface treatment of brass check valves
Rough brass color, nickel-plating, and chrome-plating are most widely used surface treatments for brass check valves. Plating helps to protect the check valves from oxygen and look shining.
5. Chemical compositions for brass check valves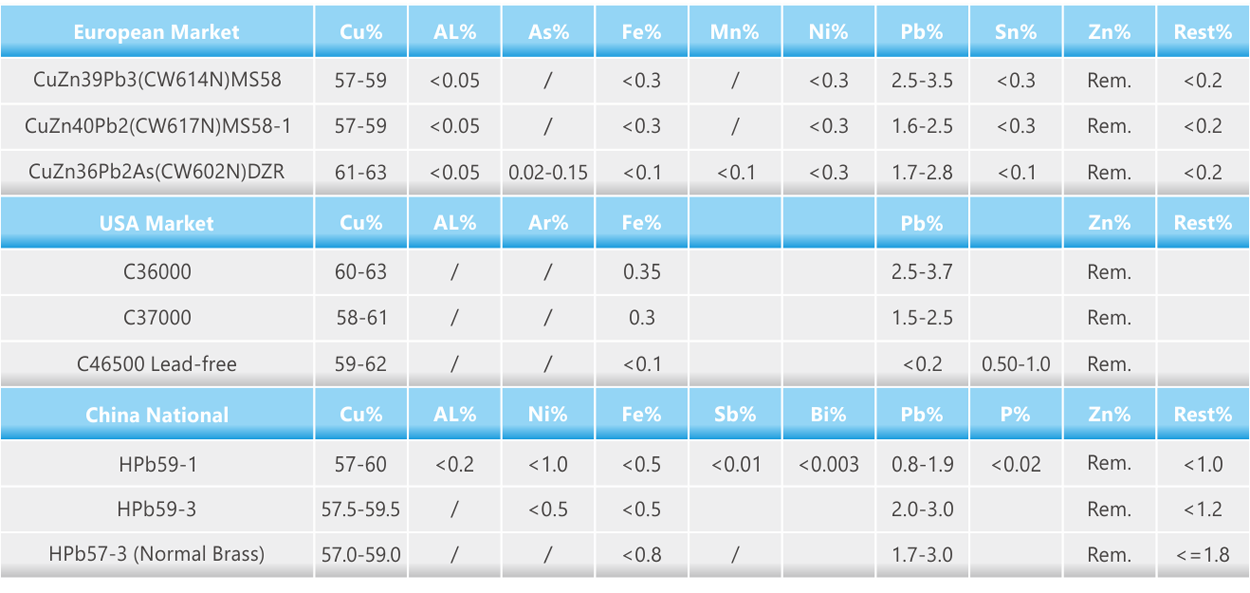 1. China/Global Market
HPb57-3, HPb58-3, HPb59-1, HPb59-3 are most common materials used for China brass check valve, which are acceptable for most countries in the world, except for those customers have special requirements.
HPb57-3, also called China Normal brass, a variant of CW614N brass, is a local industry standard, with little Fe contents in composition, and lower costs than CW614N. It's widely used as a standardized material in China and accepted by most global markets and customers.
HPb58-3, is a variant of CW617N brass and commonly used for brass check valves in China local market.
HPb59-1, has less Fe, Pb and higher price costs, it's more used for high-quality products or market, such as brass fittings for USA market.
2. European Market
CW614N and CW617N brass materials are widely used for European brass check valves.
CW617N brass has better physical property to stand higher working pressure and temperature, more importantly the Pb percentage share is less than 2.5% and applicable for drinking water systems, good for environment and people's health.
CW614N Brass is also popularly used because of similar compositions and lower costs, suitable for those applications without much environmental requirements.
6. How produce brass check valves produced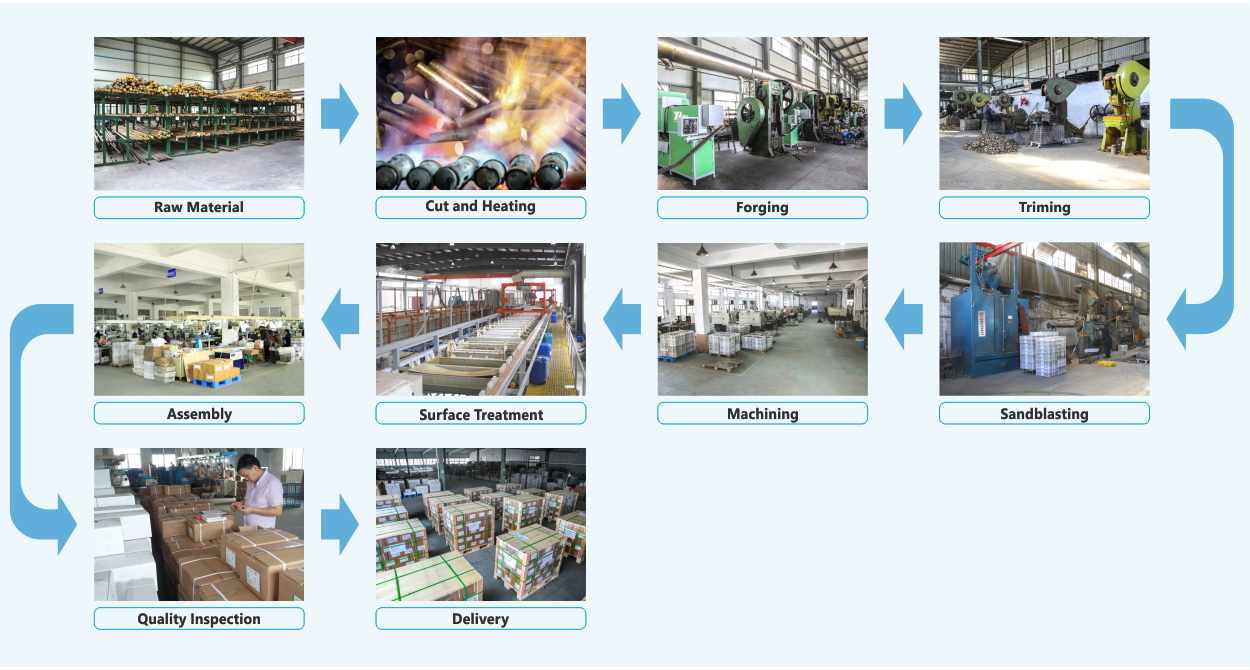 1. Brass raw materials are bought from local suppliers in forms of brass bars.
2. Brass bars are cut into smaller pieces with different sizes according to order requirements, heated with natural gas.
3. The heated brass bars are forged by forging machines, Out-comings are semi-finished rough brass check valve bodies.
4. The rough brass check valve bodies are trimmed and cut off unnecessary parts.
5. The rough brass check valve bodies are washed with sanding machines, to clean the dirty and oils during production.
6. The rough brass bodies are machined by CNC machinery for threads and dimensions.
7. The machined brass check valve bodies are nickel- or chrome-plated.
8. The brass valves are ready for delivery after final finished goods quality inspection.
7. How brass check valves packed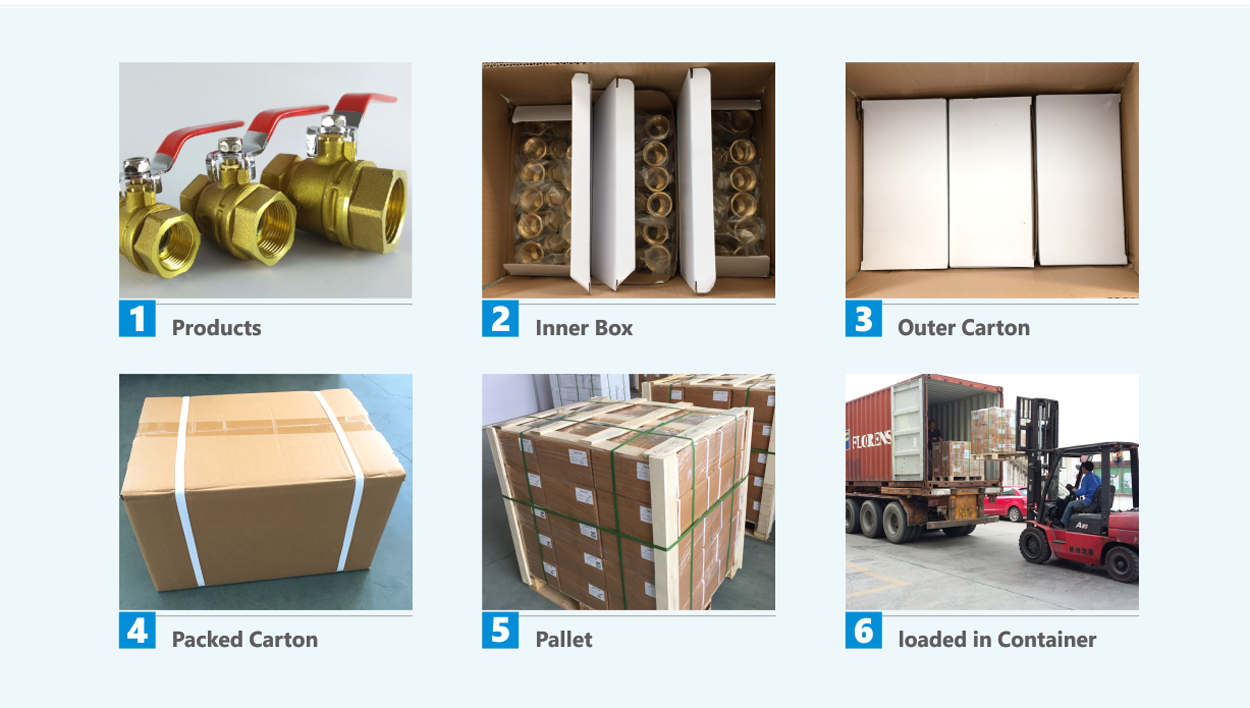 Brass check valve packing is very important for safe transport and brand appearance.
We pack brass check valves in small inner boxes, then put into outer cartons, finally load in wooden pallets.
It will protect the goods well and can avoid damages and wet.
We also pack as per customers' OEM designs.
8. How brass check valves tested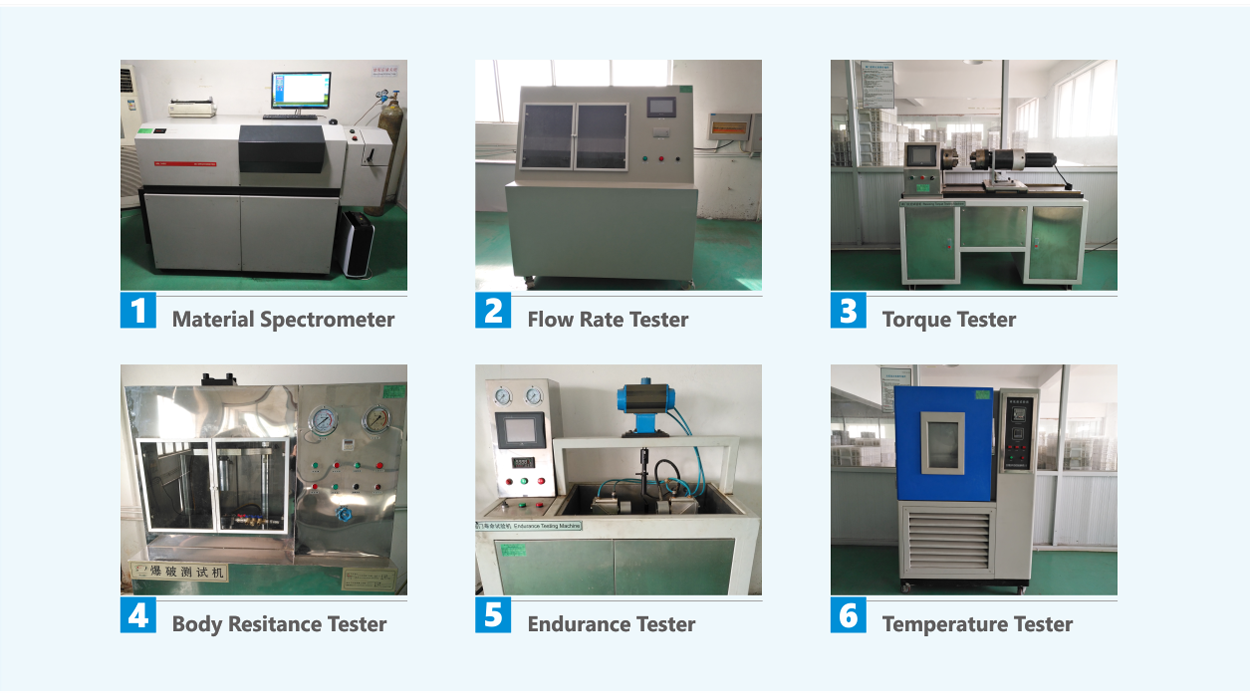 Our test laboratory equips with various devices for brass check valve quality inspect and control, as well as new product development.
Equipment include material spectrometer analyzer, flow rate tester, torque tester, body resistance tester, endurance tester, high-low temperature tester.
These equipment enable us to analyze brass check valve material compositions and type tests according to related standards, ensure our brass check valves are correctly designed and produced.
9. Brass check valve manufacturers in China
It's top important to import from professional brass check valve manufacturers in China, who can provide good quality brass check valves with favorable and affordable prices. A reliable and stable brass check valve supplier will help you much for sales and marketing.
We NAFCO have been specializing in brass valve manufacture and export since its establishment. Located in Ningbo Zhejiang - one of the plumbing valve production bases of China, we have various brass check valves for your selection, such as 4 inch check valve, 3 inch check valve, brass swing check valve, 15mm double check valve, 6 inch check valve, 15mm check valve, 2 brass check valve, brass spring check valve, 1 brass check valve, 1.5 inch check valve, 22mm double check valve, 2 inch brass check valve.
In order to catch up with the development of global brass check valve industry, and to provide customers with quality products and services at favorable costs, we use top-class machinery and equipment, all key manufacturing and core spare parts of brass check valves are self-produced and self-controlled, along with strict quality control for each production progresses, ensures each brass check valves qualified with technical standards and customer requirements.
We care about the success of our customers and the industries we serve, backed by over 15 years of experience, we deliver unparalleled quality brass check valves to our customers around the world. Better products and better trade service are our continuous pursuit.
Welcome to contact us for better fluid control experience.
Contact Us Now
Enter your inquiry details, we will response within 24 hours.
Phone can't be empty
Phone
Products can't be empty
Products you want
Verification code error